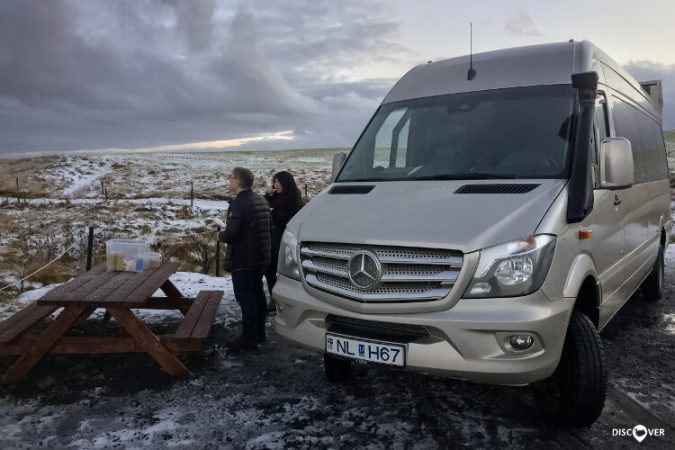 Golden Circle Minibus
Price from: 10,500ISK
It's also possible to discover Iceland and the Golden Circle on a minibus tour, if you prefer. We believe there's great value to this tour, since you'll get to see the main highlights, but also a good number of other stops. Read on!
We begin with the intensely red pseudo craters of Rauðhólar and here you'll learn about volcanoes and eruptions. Then we'll take you to the ocean, to a desolate place, the black sandy beach around a river delta. This is a time to enjoy open spaces and solitude.
Now we have a beautiful drive toward some of the main highlights of this tour, and there'll be some surprises too. But something we can tell you is that you'll get to taste the well known Icelandic "harðfiskur" (you might have seen this listed as a 'must-do' in Iceland). Hardfiskur is stockfish, and it will likely be cod. You'll also get to taste Icelandic malt extract, which is very healthy. This is included in the tour.
Then we go on to see Waterfall Urriðafoss, then the famous Crater Kerið (a small entrance fee applies), then Waterfall Faxi. The mighty Gullfoss Falls will be our next stop. Next will be the Geyser Strokkur, which erupts every 5-8 minutes.
After that we have one unusual stop before taking the last highlight of the tour: we'll take a short hike to a secret waterfall. It can be muddy if it has been raining, and if it's winter, there can be quite some snow. It would be very good if you can have good footwear and suitable clothing.
Our last stop is Thingvellir National Park, a location very dear to Icelanders due to the contribution it's given to our history. It's also a tremendously important place, geologically speaking, since here it's possible to see the tectonic plates of two continents, splitting apart. And then, we return to Reykjavik and drop you off at your hotel, hoping you've enjoyed our minibus tour just like kids ?
Highlights:
– Pseudo craters Rauðhólar
– Black Sands
– Waterfall Urriðafoss
– Crater Kerið
– Waterfall Faxi
– Gullfoss Falls
– Geyser Strokkur
– Thingvellir National Park
– Taste harðfiskur and malt
Transport: Tour in minivan (max 20 persons)
Duration: 8-9 hours
Hotel pick up: See below
Schedule: See below
Price: See below
Excluded:
-food (we make stops for lunch)
What to bring:
– Warm clothes
– Good shoewear
Testimonials
Comments from our previous guests