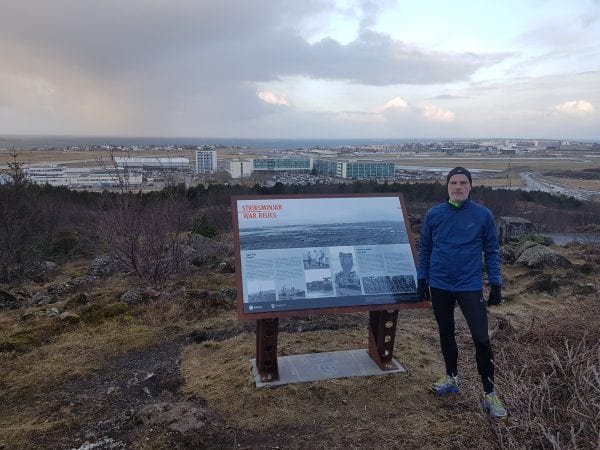 Running Tour
Explore Reykjavík on the Run!
Reykjavik Running Tour
Are you an experienced, enthusiastic runner/jogger? Did you bring your running shoes to Iceland, but not sure where to go for a nice run in Reykjavik?
The City Run is a private running tour. Offering complete flexibility. The run might be ranging from 7-8 km run (5 miles) up to 15 km (9 miles) in length. The Pace is generally talking speed for everybody so our guests can interact with the guide. The route chosen is very dependant on our guests and where they stay, and possibly weather. Some routes are more prone to be windy or icy.
Your guide, Björn, will meet you at your accommodation provided below and tailor a route from there and back (or to wherever you wish to finish). Keeping the route as much scenic as possible. Björn is a seasoned runner for over 25 years and currently in his 40's. A reporter by trade, Björn has extensive experience overseas and speaks fluent English and German. He also very much likes to practice his French a bit more.
Please keep in mind that you are responsible for your own safety and well being on this tour. By taking part, you accept that you will not hold CityWalk liable for any eventuality.
Price:
1 Runner: 7.000 ISK
2 Runners: 9.000 ISK
3 Runners: 12.000 ISK
4 Runners: 15.000 ISK
5 Runners: 18.000 ISK
Duration:
1 hour is average running time
– A great way to explore Reykjavik on the run.
– Private Tours only
The running tour is designed for experienced runners and joggers. We will make a few stops on the way, but expect to be running for an hour or so. Elevation, rough terrain and pace is up for discussion and very flexible. No one should find this to be too easy nor too difficult.
We generally limit the running tour to 5-6 participants. But if your group is larger, and you want to experience the run together, please dont hesitate to contact us, and we´ll do our best to accommodate you and possibly setup a run for two different groups.
Testimonials
Comments from our previous guests
Citywalk Running Tour with Bjorn is THE BEST!!!

My running tour with Bjorn was, by far, one of the highlights of my trip to Reykjavik! We had a private tour for 2 people (me + a friend) and it lasted about 2 hours. Before the tour, Bjorn double confirmed everything and gave us a heads up about the weather to dress appropriately (so great!). During the tour, Bjorn was extremely knowledgeable and pointed out interesting facts about Reykjavik and our route along the way. He answered all of our many questions while on the tour AND followed up with an email after the tour with even more interesting stuff to do and see for the remainder of our stay in Reykjavik! If you like to run, then take this tour with Bjorn because it is seriously one of the best ways to see and enjoy Reykjavik!

Nadine K

May 8th, 2018

Highly recommend running tour with Bjorn!

I can't say enough good things about this tour! In a nice relaxed pace, Bjorn covered 7.5 miles of Reykjavik. We ran by the southern coast, northern coast, town center, domestic airport, wooded area, Harpa, Hallgrimskirkja cathedral, harbor. Along the way, I learned about Iceland's history and culture. He also gave me tips on coffee houses, bakery, restaurants. He was very entertaining and a great running companion. The miles flew by! Because I'm directionally challenged, he stopped by a hotel to obtain a map at the end of the run to review our route. After the run, he gave me more tips on running paths around Reykjavik. What a great tour! I am still raving about it to friends and family!

CuriousTraveller777

15th August, 2017

Fort Myers, Florida

Wonderful private running tour with Björn!

I landed in Reykjavík on Sunday morning, 23 July, and by later that afternoon I had covered 7.5 miles on foot with Bjӧrn! We started the tour at Austurvӧllur in the city center, went into City Hall right across the street, then continued along the Tjörnin pond (which used to be a river), through the University of Iceland and down to the bottom of the peninsula, where we picked up a running path that went by the municipal airport, and then picked up a wooded trail, up a hill for a cool view, and into the Perlan (a museum/observatory) and then back toward the city center to the Hallgrímskirkja (the famous church) and then picked up another paved path to run along the harbor past the Sun Voyager sculpture and Harpa Concert Hall. We ended up at a small hotel near my accommodation where Bjӧrn got a map and showed me where we'd run and gave me some other suggested running/biking routes around Reykjavík. I had done my homework on Iceland, and Bjӧrn was pretty impressed with how much I already knew, but I still learned a lot. Like, did you know that the British occupied Iceland during WWII and there are remnants of forts all over the place? That's also how the municipal airport came to be. If you are a runner, I highly recommend this running tour on your first day in Reykjavík, because it's a great way to get a lay of the land while also seeing the sights and learning more about the city.

Sharon R

8th August 2017