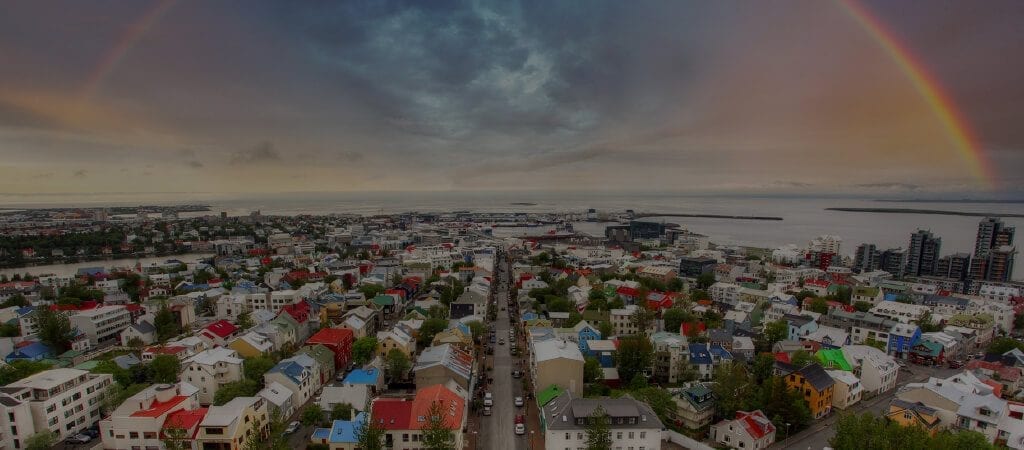 The CityWalk Team
The CityWalk enterprise was founded in 2014. It is one of the leading companies in Reykjavik that offers walking tours downtown Reykjavik with knowledgeable guides. We offer variety of different tours around Reykjavik ranging from the "free tour" to private food tours, that has become really popular.
"Free" classic tour, a unique free walking tour in Reykjavík which has frequently been featured in blogs, newspapers, TV and other social media. Furthermore, it is rated as the best tour in Iceland in terms of quality and price.
The flourishing company is represented by a team of very welcoming local guides which are highly praised on Tripadvisor for their professional delivery. Our guides are fully aware that they are representing a country, hence we choose our words carefully and show the utmost respect we can to everybody. Whilst still trying to walk the thin line of humor.
Our Guides
Our Fantastic Guides!
Marteinn Briem

Martin started the company in 2014. He is still guiding himself along with managing the company. His guided tours tend to be spiced up with much sarcasm and interaction with the crowd. You'll also find him to be very welcoming and considerate of the smaller ones in the crowd. Make sure you ask him about his political views and especially in terms of tourism and the new economy of Iceland.

Tómas Ingi Shelton

Thomas finished his history degree in the winter of 2017 and immediately started the intense training program with CityWalk. Eventually ready to roll in February 2018. His background in history and having a father born in the US will make his words sound like a song in your ears. No worries about the eye-piercing Icelandic accent with this guy. Tom is deeply in love with Ping-Pong, both playing and coaching kids in his spare time. Through his half-american background, Tom is very detailed on the WWII and Post war period, make sure you ask him about the american base in Keflavík.

Eiríkur Viljar H. Kúld

Eric joined the CityWalk team in march 2015 and he immediately earned great reputation as good word of mouth spread around town over his delivery on the "Free" classic tour. He guides more people monthly than any other tour guide in Iceland when he is not in Asia guiding motorcycle tours at his own travel company Two Wheels Travel. Passion and dedication shines through in his entertaining delivery. Additionally, he rarely puts on much clothes, satisfying girls and other homosexual guys on his tours very much! Ask Eric anything about sports in Iceland, he is a hardcore Liverpool fan!

Sara Hrund Einarsdóttir

Sara joined the CityWalk gang in march 2016. Originally as a part time guide, but she liked the guidance so much that eventually she was obsessed with showing guests around town. She also works as a high school teacher in winter time but is all-in with CityWalk in the summer. Her smile and laughter is contagious and people generally find her to be our most interesting guide, being a mother of two children already! She is also a hardcore feminist which makes all questions about women's rights most welcome!

Jóhannes Ingi Torfason

Joe was recruited in december 2016. His background in entertainment, doing standup all over town in the past years, will be spotted at first encounter + his height. Joe has a degree in law which he feels is utterly useless for his future as a comedian. Thankfully for us, he is a history buff on the side which he doesn't find useless at all! Additionally he is originally born in the north of Iceland, in Skagafjörður. He can answer all questions on farm life in Iceland and especially anything related to horses and sheep!

Mauricio Rodriguez Villavizar

Mo joined the CityWalk team in february of 2023 and from day one aimed for a full time job guiding in Reykjavík. He quickly proved himself as a great asset to the team and also the first non-native Icelander in the squad, which gives his tours a new angle we've never seen before. He was born a Dominican but moved to Iceland with his wife in 2017. He's and educated engineer but quickly became involved in the stand-up comedy scene in Reykjavík which he has never left. His big goals are doing comedy world around but for now he is thoroughly enjoying showing tourists around town. Ask him about the paperwork necessary to become an Icelander and how one needs to name his children following a strict naming system!

Ásgrímur Gunnarsson

Ási found himself moving back home to Iceland in the summer months of 2023 and had heard of CityWalk through his younger brother (Óli) who had been doing part-time job at CityWalk the summer before. Ási, coming from a family of actors and playwrights, studied drama in London and now combines that with guiding for CityWalk. The combination of work on weekdays in the streets of Reykjavík and live performance on stage on weekends has created a new favored routine for him. His charming aura will certainly warm you up during your walks and we recommend you ask him about his friendship with Ben Stiller after working together on the Walter Mitty movie filmed in Iceland.

Ásta

She boasts of a long career in media in her 20's and early 30's mostly doing TV hit children shows. You can look it up on Youtube: "Asta og Keli, stundin Okkar" To the rest of the team it was a happy reunion for many of the guides to see her as a colleague, years after watching her on TV. She had been involved in tourism the years before being recruited on the CityWalk team and has been full time player since October 2022. She knows all about the knitting shops in downtown and where to best prepare for a ladies night out in Reykjavík.

Andri

Andri (a.k.a. Andrew og Andy) came into the team at the perfect time in September of 2023. Originally he was looking for a part-time job to fit his frequent evening schedule but ended up liking the guidance more than anticipated and lead more walks than be had originally planned.
Andri was previously working as a software engineer along with comedy. He is also a great Guitarist and teaches one of our most popular Stand up comedian Ari Eldjárn how to play guitar when he is not playing guitar in the background on his show or doing stand up with him.

Óli Gunnar

Óli was in junior college at the age of 18 when he first got acquainted with Marteinn as the latter stepped in as a substitute history teacher for a friend. You could argue that he was headhunted by the boss and pressed to join the CityWalk team in the late spring of 2022. It was also a convenient timing for Óli who was pursuing a career acting on stage and behind the scenes writing scripts for audiences of all ages. Since starting at CityWalk, Óli has always been on part time duty, on standby and always eager to jump in to guide, when he is not writing the script for Stundin okkar (same TV programme as Ásta used to host). Óli speaks loudly, you'll have no issue hearing him on our tours. In his youth he has always had to speak up in order to be heard at home because of his older brother Ási, being frequently the center of attention. He wrote his first book at the age 15 years old and has two nomination for Gríma the Icelandic of the Performing Arts Awards. You can look up his short film on Youtube.

Arnór

Arnór or Arnold is deeply involved in the society of historians in Reykjavík. He's got a web of connections to writers of history books and intellectuals. His degree from Columbia University speaks for itself. He was working on various assignments for the prime ministry for a period of time and is frequently called upon by the union of historians to gather data and publish. When his face is not deep down into a book, he turns out to be a great guide for the streets of Reykjavík. He's a good friend of Tómas who recruited him in September of 2022. Since then Arnór has been mostly guiding on weekends as a part-time job.