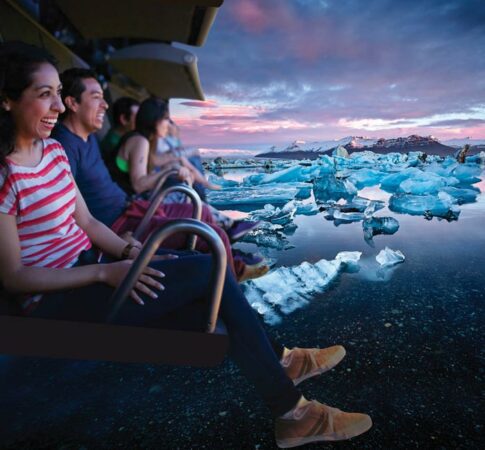 FlyOver Iceland
Price from 4,990ISK
Unforgettable nature
STATE-OF-THE-ART TECHNOLOGY GIVES THE FEELING OF FLIGHT.
You will hang suspended, feet dangling, before a 20-metre spherical screen while our film whisks you away on an exhilarating journey across Iceland. Special effects, including wind, mist and scents, combine with the ride's motion to create an unforgettable experience.
Children must be at least 102cm (40″) tall. Children (12 and under) must be accompanied by an adult or guardian (14 years or older).
Prices subject to change at any time.
OPEN EVERY DAY FROM 10 AM TO 7 PM.
FlyOver Iceland rides commence approximately every 15 to 20 minutes during operating hours. The total experience will take approximately 35 minutes, including the 8.5 minutes you'll spend on the Ultimate Flying Ride.
Flyover is located at Fiskislóð 43, 101 Reykjavík. Easily accessible from downtown Reykjavík.
Testimonials
Comments from our previous guests