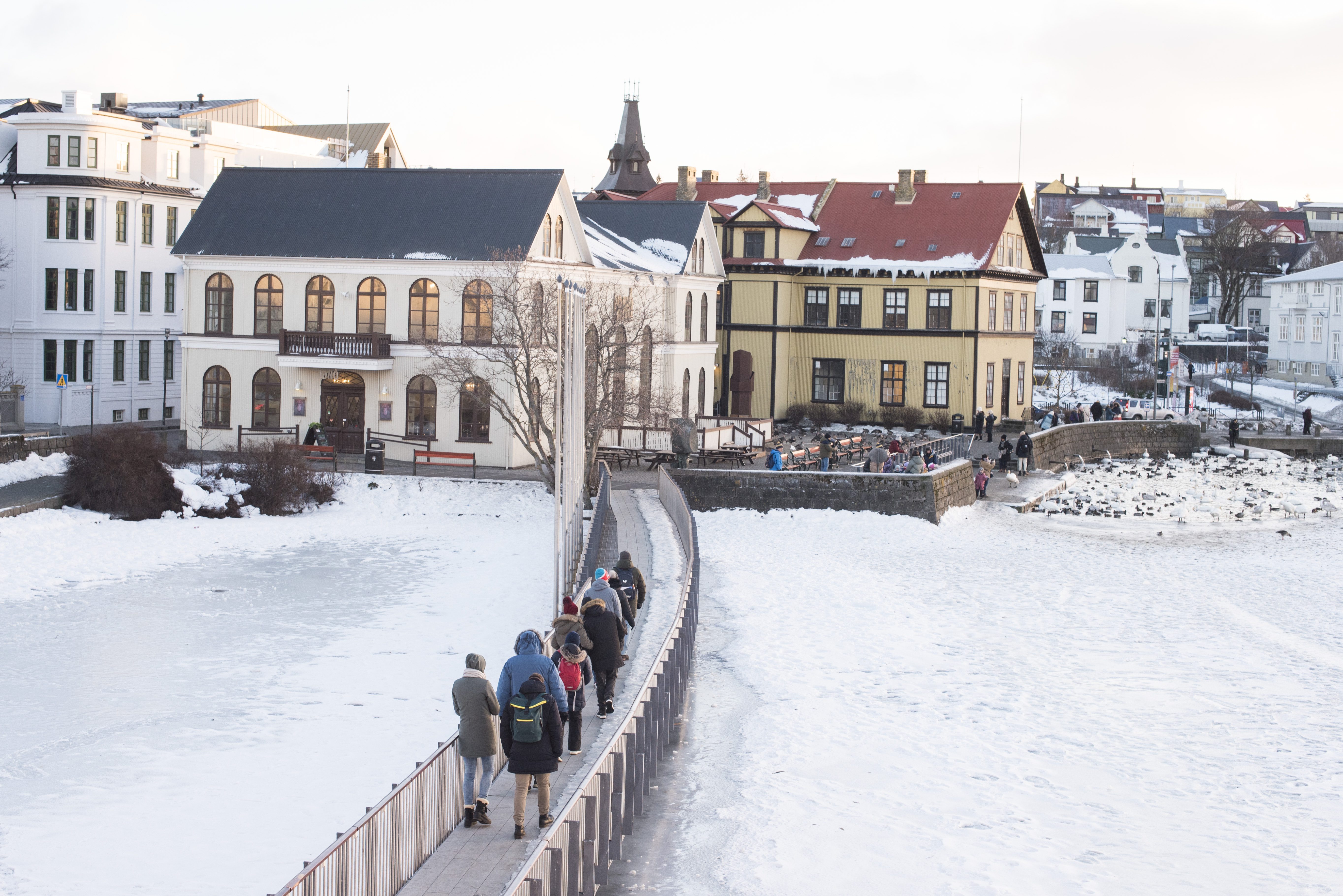 VIP Walking Tour
Small Group!
Small group CityWalk
The VIP CityWalk is a 2-2.5 hour walking tour in a small group designed especially for those who wish to get a more personal touch to their day in Reykjavik. The walk itself starts at the highest point in Reykjavík at the iconic Hallgrímskirkja and is all downhill from there! We pass by the most famous landmarks in Reykjavík such as Harpa concert hall, main shopping street Laugavegur, Þingholt neighbourhood, Arnarhóll hill, PM's office, Lake Tjörnin, the famous hot dog stand, City Hall, Parliament and many more. You'll also see some of Reykjavík's best hidden street art as we introduce you to local habits, do's and dont's. You'll get the history of Iceland in a nutshell as well as recommendations on restaurants, bars and museums. The idea is to lay the foundation for the ideal trip to Iceland or to wrap up a journey of a lifetime with answers to the questions that have arisen during your stay. By the end of the walk, you'll have a local friend and you've felt like you've seen the city in a different light.
The VIP tour is a perfect alternative for those who are worried about the Free Walking Tour Reykjavik – click here being to crowded.
If your group is 10persons or more we recommend booking a private tour Private Walking Tour – click here
Add a food finish at our favourite restaurant with the CityWalk discount:
Upon finishing the walking tour, we offer the option to drop you off at one of our favourite restaurants in downtown with an included meal. Please pick one extra, because each extra is served at a different restaurant, the speciality of each spot. The possible options are detailed in a tab further below.
Price: 4980 ISK
2 - 2.5 hours
Start: Hallgrímskirkja
Finish: Austurvöllur
Dates: All year around
Wheelchair Accessible
You will find your guide at Hallgrímskirkja, next to a statue of a viking, Leifur Eiríksson. Click here for google maps location
We are easy to find, clothing marked the CityWalk logo.
Hallgrímskirkja, Skólavörðustígur, Laugavegur, the Concert Hall Harpa, The Old Harbor, lake Tjörnin, Parliament building and often go inside the City Hall. The route changes slightly due to weather.
We can set up different time slot for you for a VIP walk (if you reach min participants) or a private tour. Please send us an email [email protected]
1. The Famous Icelandic Hot dog, includes gluten. Choose from toppings: ketchup, may, mustard, onions
2. Vegan meal, soup & Dahl. Our friends grow everything locally
3. Lamb Soup. The traditional iceland Lamb soup has been keeping us warm for generations
4. Panfried Arctic Charr or Salmon, may contain nuts. Only available on weekdays for lunch.
5. The Controversial plate. All legal in Iceland but not commonly eaten. Including a sample of Horse Carpaccio, Smoked Puffin, lightly grilled Minke Whale and Cured Arctic Charr. Small portions of each, but one platter can be shared with two persons.
Testimonials
Comments from our previous guests