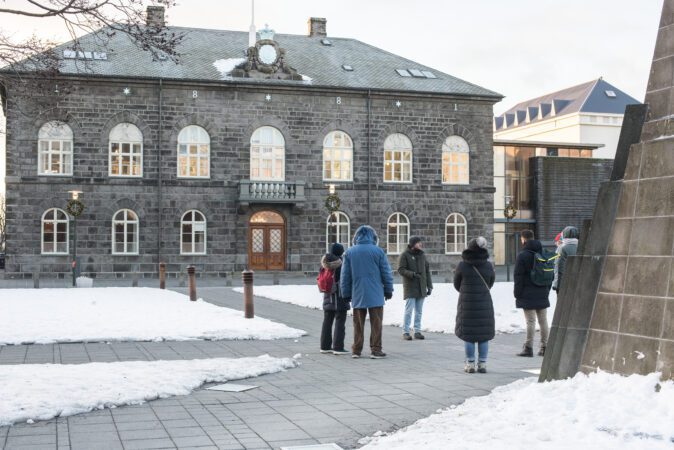 Free Walking Tour Reykjavik
You set the price afterwards
The "Free" walking tour is a informative and funny. It takes you on foot around the heart of downtown Reykjavík to the main attractions downtown, Harpa concert hall, Parliament building, City hall and more. The main focus of this walking tour is the general history of Iceland and the evolution of Reykjavík as a town as well as stories of elves, vikings, food, nightlife, music, economic aspects and political affairs. Finally there are the funny facts about Iceland and the places you must see in Reykjavík. The free walking tour is laid out in an informative and comic way, with room for personal questions.
The free walking tour is completely non-commercial and non-sponsored, you pay afterwards whatever you think it was worth. Indoor stops are frequent in winter. We've never cancelled the free walking tour since it started to run. The walk itself is easy, about 2km long (1.3 miles) and lasts 2 hours. Children are welcome to accompany us and we do our best to keep them involved.
If you prefer a smaller group we recommend VIP small group CityWalk.
Or Private Walking Tour
Please select a time slot further down on this page and turn up 10 minutes prior to starting time to check in with your guide. In the winter time usually in a big green coat
Please make sure your guide is marked with the CityWalk Reykjavik logo!
Price: "Free" Donation
Duration: 2 hours
Start: Austurvöllur (Parliament Building)
Finish: City Hall
Departures: Every Day
No Age Limit
Wheelchair Accessible
Meeting point is the main square Austurvöllur, in front of the House of Parliament (Alþingi) We are easy to find next to a statue of the national hero, Jón Sigurðsson. Make sure you don't confuse us with other tour groups. Always look for the CityWalk logo.
Our regular booking system does NOT allow bookings for more than 6 people per booking for a very good reason. Big groups of 6+ people can join the classic "free" walk with special permission given via e-mail through this contact form. If you exceed 10 people in total, we ask you to book the tour privately since we cannot accommodate you along with our regular guests. Please read about the Private Tour we offer.
The Free City Walk runs 100% on donations from guests at the end of each tour to your guide. You pay whatever you feel like the tour was worth in any currency you prefer. Compare this tour to any other and set a fair price depending on how much you liked the tour and the guide's performance.
Payment is accepted at the end of the tour in ISK or any exchangeable currency. We also accept payment with a card here
Parliament building, Laugavegur, the old harbour, The Concert Hall Harpa, lake Tjörnin and the City Hall. Along with plenty of non-touristy sites. Our guests are encouraged to visit Hallgrímskirkja and Harpa on their own before or after the tour.
Booking
Reserve your time slot here!
The "Free" Classic tour opens for bookings roughly 5 days in advance. We run every day, year around, in all kinds of weather. We rarely take a day off over holidays. In case the weather is bad, we alter the tour, take shelter from wind, rain and snow as much as possible and even shorten the tour. CityWalk has never cancelled a tour.
Those who show up without a valid booking risk being denied participation and those who book and don't show up won't get a christmas card!
See FAQ and get in touch here
Testimonials
Comments from our previous guests
Definitely Do!

We booked this free walking tour of Reykjavik with Nanna on a whim to fill our day and we are so glad we did! She was very well spoken, knowledgable and hilarious. Having just arrived the night before, it was a great way to get our bearings and learn about the city before taking off on our own. Nanna also has great experience throughout Iceland and gave us some recommendations beyond the city that all turned out to be awesome. While the tour is free, we were so pleased with it that we (and all of the other guests) gave a nice tip at the end 🙂 Highly recommend!

Katie T

26th April, 2018

Boston, Massachusetts

The best starting point to know the city and the country

I had the opportunity to visit Iceland in September and the CityWalk tour was one of the first activities I did, and I absolutely loved it. Disa was great at making the tour fun, entertaining, useful, and informative. She is super well prepared for any questions, tips, or recommendations you may need. Disa is so passionate about her country and her fellow Icelanders that you can't help it but to be immersed in that positive and fun vibe. After the tour, you will have the right context and be able to truly enjoy your stay in Iceland a thousand times more. Exceptional job to Disa and the CityWalk team!!

Francisco C S T

21st Sept 2017

Washington DC

Great guide showed us other parts of the city

Tomas, our citywalk guide, was great. His stories were informative, entertaining and at times funny. He has a very calm but engaging way of telling stories and his English is impeccable, which made it easy for everyone to understand. The tour took us through a part of town that we wouldn't have visited otherwise. It was a good mixture between highlights and more unknown places and information. Tomas covered the history of the country and city, but also culture, economics and practical tips for during our stay in Reykjavik. I loved that we ended the tour in the city hall, as it has some nice displays on the city. The tours depart from the parliament square, everyday. They are 'free', as there is no set price but tips are greatly appreciated. All in all a great way to explore the city in around 2 hours.

Exploringwithjunie

17th Oct 2017

The Netherlands

Best way to start a trip in Reykjavik!

Jóhannes was an absolutely fantastic tour guide! My parents and I started our trip to Reykjavik with the free two hour walking tour, and we were so happy we did. Jóhannes was extremely friendly, making an effort to get to know everyone before the tour began, and was full of great information. He also had a wonderful sense of humor and was more than happy to answer any questions. A few days after the tour my family went to the National Museum of Iceland, and we realized just how much we had learned from Jóhannes!! Would definitely recommend this tour company to everyone!

Sarah Y

2nd February 2017

United States

Ideal introduction to Reykjavik and Iceland

Our guide was Eric, whose English was excellent. He was enthusiastic and very responsive to his audience's reactions. He was well-infromed and managed to cover the history, sociology and economy of both Reykjavik and Iceland in an unusual chronology, but one which was logically underpinned by his choice of stopping points. His manner was relaxed and I am convinced he was enjoying himself. He answered all questions with an enviable confidence and sense of humour. I don't think we have ever met a more knowledgable and approachable guide in many years of traveling.

Michael C

August 16, 2015

Norwich, United Kingdon

What's not to love?

Sarah is worth loving. She took the walking tour today and it was one of the best ones I've attended – and I've gone on quite a few walking tours all over Europe. Not often are tour guides so comfortable with what they do and a large audience that they make all the appropriate jokes with perfect timing that cause constant raucous laughter. They were many of these moments throughout the very short 2 hours, not to mention the abundant learning in Icelandic history and culture. It was remarkable and is a must do when in Reykjavik (even if it's the only thing you do in Reykjavik)

Pawcone

May 11, 2016

Sydney, Australia